Try Amazon Music Unlimited Free Trial
Crucifixion and Guards at the Holy Sepulchre
on a Carolingian Ivory Carving, 9th Century.
Cathedral Treasury, Nancy, France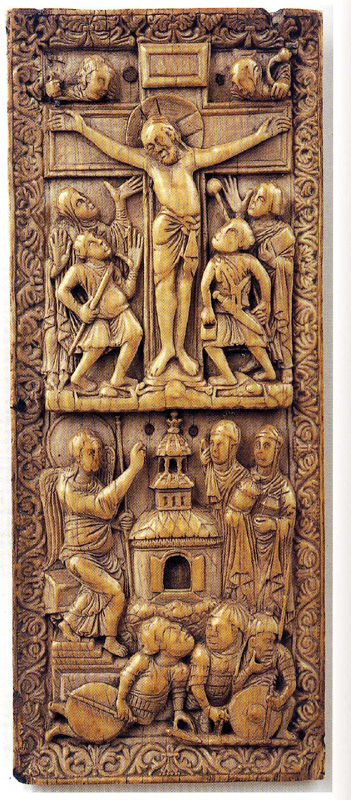 Source: Rodoric en Miles du X iéme siècle


---
Referenced on p.30, Carolingian Cavalryman AD 768-986 by D. Nicolle
'Guards at the Holy Sepulchre,' in a 9th-century Carolingian ivory carving are unusual in clearly illustrating lamellar body armour. (Cathedral Treasury, Nancy, France)

---

Source: Item 137, Plate LIX, A. Goldschmidt, Die Elfenbeinskulpturen aus der Zeit der Karolingischen und Sächsischen Kaiser, 4 vols. (Berlin 1914-1926)

137. BUCHDECKEL. TAFEL LIX
Kreuzigung und Frauen am Grabe.
IX.—X. Jahrhundert.
Nancy, Kathedrale.

Höhe 23 cm, Breite 9,5 cm.
Sehr abgerieben, so daß die Gesichter teilweise kaum mehr kenntlich; einige kleine Verletzungen am Rand, Lanze des Longinus, Fackel des Sol und Stücke der Wächterlanzen abgebrochen; Farbe des Elfenbeins dunkelgraugelb. Einige Bohrlöcher im Band und in der Grundfläche. Auf der Rückseite oben und unten eine parallel dem Bande eingeritzte Linie. 1878 aus der Sammlung Dufresne in Toul erworben, soll von einer Handschrift der Kathedrale von Toul stammen.

Auf der oberen Hälfte der Platte der Kruzifixus in starkem Relief, tief in den Armen hängend mit starker Ausbiegung der Hüfte nach rechts. Links Longinus mit Lanze, rechts in ungeschickter Bückenansicht Stephaton mit dem Schwamm, von ihnen halb verdeckt Maria und Johannes mit emporgestrecktem Arm. Über den Kreuzesarmen die Oberkörper von Sol und Luna mit eigentümlich gebogener Fackel. Die Tafel über dem Kreuze ist unbeschrieben. Unter dem Fuß des Kreuzes scheint eine Schlange zu liegen, daneben sind kleine geöffnete Särge sichtbar, aus denen die Toten auferstehen, doch sind diese Teile wegen der Abnutzung schwer zu erkennen. Der Erdboden dieser Szene ragt im Relief weit heraus. Auf der Darstellung darunter bildet das mehrstöckige Grabgebäude die Mitte, links sitzt auf einem Steinblock über mehreren Stufen der Engel, mit erhobener Hand zu den zwei Frauen gewandt, die rechts neben dem Grabmal hervorkommen. Die vordere hält in beiden Händen Salbenbüchsen, die hintere hebt ihr Gewand ans Gesicht. Im Vordergrund lagern drei Wächter in antikisierender Rüstung und mit einer Art Spangenhelm auf dem Kopf. Die ganze Platte ist umrahmt von abwechselnd nach innen und nach außen gerichteten Palmetten. Diese Art des Bandornamentes steht ziemlich vereinzelt da und findet ein genaues Analogon nur in der Petersburger Platte Nr. 138, die auch nach Größe, Inhalt und Stil als Pendant angesehen werden kann. Kreuzigung mit Frauen am Grabe und Himmelfahrt Christi scheinen häufig den vorderen und hinteren Deckelschmuck der Evangeliare gebildet zu haben. Nach dem Stil der Figuren gehört derselben Werkstatt, vielleicht demselben Schnitzer, die Platte mit der Vision des Ezechiel im Museum zu Orleans an, die erst im folgenden Band abgebildet werden wird.
Source: p.68, a rel="nofollow" href="https://digi.ub.uni-heidelberg.de/diglit/goldschmidt1914bd1/0078/image">A. Goldschmidt, Die Elfenbeinskulpturen aus der Zeit der Karolingischen und Sächsischen Kaiser, 4 vols. (Berlin 1914-1926)



137. BOOK COVER. PLATE LIX
Crucifixion and women at the grave.
IX.—X. Century.
Nancy, cathedral.

Height 23 cm, width 9.5 cm.
Very worn, so that the faces can hardly be recognised in some cases; some small injuries at the edge, lance of Longinus, torch of Sol and pieces of guardian lances broken off; Ivory colour dark grey-yellow. Some holes in the tape and in the base On the back top and bottom a line incised parallel to the band. Acquired from the Dufresne collection in Toul in 1878 and is said to come from a manuscript in the Cathedral of Toul.

On the upper half of the plate the crucifixion in stark relief, hanging low on the arms with the hips strongly flexing to the right. On the left Longinus with a lance, on the right, in an awkward stooping view, Stephaton with the sponge, Mary and John half-covered by them with their arms stretched out. Above the arms of the cross, the upper bodies of Sol and Luna with a peculiarly curved torch. The board above the cross is blank. A snake seems to lie under the foot of the cross, next to it are small open coffins from which the dead rise, but these parts are difficult to see because of the wear and tear. The ground of this scene sticks out far in the relief. In the illustration below, the multi-storey tomb building is in the middle, on the left the angel is sitting on a stone block above several steps, with a raised hand facing the two women who emerge to the right of the tomb. The one in front holds cans of ointment in both hands, the one in the back lifts her robe to her face. In the foreground lie three guards in antique armour and with a kind of spade helmet on their heads. The whole plate is framed by palmettes that alternate inwards and outwards. This type of ribbon ornament is quite isolated and has an exact analogue only in St. Petersburg Plate No. 138, which can also be viewed as a counterpart in terms of size, content and style. Crucifixion with women at the grave and the Ascension of Christ often seem to have formed the front and rear cover decorations of the Gospels. According to the style of the figures, the plate with the vision of Ezekiel in the Orleans Museum belongs to the same workshop, perhaps to the same carver, which will only be illustrated in the following volume.

---

See also Ivory Book Cover of Charles the Bald, France, c.860
Other Carolingian Illustrations of Costume and Soldiers