Illustration from the:

Beatus de Saint-Sever
Commentary on the Apocalypse by Beatus of Liébana,
copy from before 1072AD, Southwestern France.
Folio 8. Abraham Sacrificing Isaac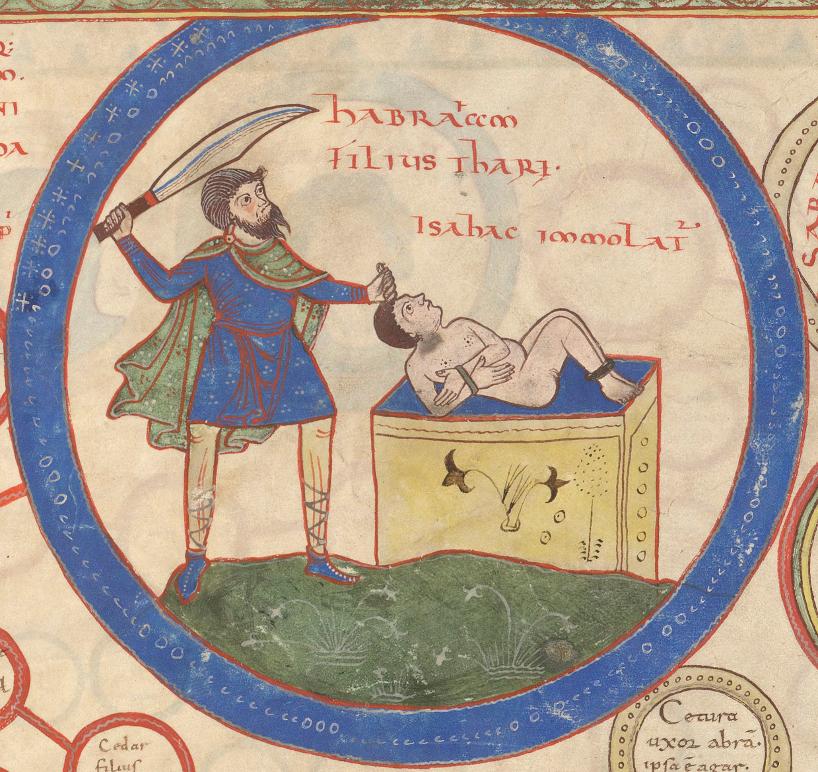 ---
Referenced as figure 563 in The military technology of classical Islam by D Nicolle
563. Manuscript,"Sacrifice of Isaac," Beatus of St Sever, 1028-1072 AD, south French, Bib. Nat., Nis. Lat. 8878, f. 8, Paris (War).
p40 Vol. 1 Whether the heavy European falchion, perhaps first seen in 11th century southern France (Fig. 563), was an independent development or reflected a merging of these two traditions from north and south, remains unclear. There is, however, little doubt that comparable single-edged swords of various lengths continued to be used throughout most of the Muslim world in the 12th and 13th centuries (Figs. 177E-F, 178A-B, 250, 294, 401, 591, 609I, and 641).


Previous: Beatus Saint Sever, Darius lies sleepless Next: Beatus Saint Sever, The Four Horsemen
Back to Beatus de Saint-Sever, Commentary on the Apocalypse by Beatus of Liébana, 1028-1072AD, Southwestern France. BnF Manuscript Latin 8878


---